Terranova
Terranova is a slate textured rubber surface with colored speckles.

---
---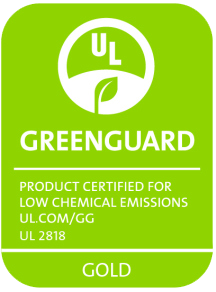 Beautiful Rubber Flooring with a texture
Terranova gives spaces a natural yet modern feel by combining a slate-textured rubber surface with multicolored granules. These granules speckle the surface and either contrast or complement the base color to create visual interest. This three-millimeter thick rubber flooring material comes in eight different base colors, all shades of grey or brown, so you can find a neutral option to suit your design.
We offer Terranova in large, 1 meter square tiles to allow for the best design and installation results. We can help you get the near-seamless look you desire by connecting you with a trained and certified Mondo flooring installer. At our in-house certification school, installers learn best practices for working with our products so they can help you make your vision a reality. Professional installation ensures your flooring looks and performs as expected for years to come.
Mondo Terranova has created simple but stunning displays in airports and other high-traffic environments. Terranova is sold in countries worldwide, including Canada and the United States.
Benefits of Terranova Rubber Flooring
Whether you're a designer choosing flooring for a client or a building operator looking to improve your facility's interior, you have high expectations for your flooring. Mondo Terranova provides practical as well as aesthetic benefits, including the following:
Durable performance: Mondo Terranova is made with quality material that have a proven track-record. As a result, your flooring will resist wear and withstand heavy traffic and rolling loads, while still providing underfoot comfort.
Sound absorption: Rubber absorbs sound rather than reflecting it. Our slate-textured rubber flooring can create a quieter, more relaxing environment — ideal for healthcare facilities, schools and other settings where focus is essential.
Ease of maintenance: Terranova is easy to clean and requires no waxing or stripping as part of upkeep, which means you won't need to buy expensive cleaning systems to maintain your flooring. Over the full length of ownership, Terranova's low maintenance requirements can result in tens of thousands of dollars saved.
Sustainable composition: Terranova rubber flooring is fully recyclable, GREENGUARD Gold certified low-emitting and made without LBC red-listed materials, so you can use this rubber flooring to exceed your project's sustainability and environmental safety requirements.
Get Terranova Rubber Flooring From Mondo
Mondo Contract Flooring has over 70 years of experience in the rubber flooring industry. If you're searching for rubber flooring that looks like slate, Terranova is a strong choice. Unlike some companies, which offer rubber alongside other flooring materials, we focus all our energy on developing the best rubber flooring products for demanding environments.
To purchase Terranova for your next project or to request more information, fill out our online contact form today.