How Rubber Flooring Can Benefit Your School
The flooring material you choose to install in your primary school can greatly impact student learning. Whether in the classroom or the cafeteria, school flooring needs to meet the unique challenges of the educational environment, providing functionality and aesthetic appeal.
Schools contain many spaces used for different purposes — including classrooms, gymnasiums, cafeterias, offices, laboratories and more — which makes choosing the right flooring material feel like a challenge. You need to find flooring products that exceed a range of demands without breaking the school's budget. Rubber flooring's versatility can perform well in many different primary school settings and comes with a relatively low overall cost of ownership.
With consideration for the requirements of each school area and a little creativity, designers and administrators can outfit a school with flooring that is functional and conducive to learning. Here are several ideas for the application of rubber flooring in primary schools.
Creating Positive Classroom Spaces
Classrooms are the main centers of learning in a primary school. As a result, they need to be designed with learning in mind. Research shows that design elements, including complexity and color, can impact student outcomes. Choose light colors that come together to form a coherent visual design. Pops of color can also help young students focus in the classroom when used in moderation.
At Mondo Contract Flooring, we carry rubber flooring products for school classrooms in a number of colors and patterns, so you can find a material that suits your application. Our most popular flooring option, Mondo Harmoni, comes in 36 colors ranging from neutrals to bright reds, blues and yellows. The multicolored granules speckling the surface give Harmoni a colorful appearance. Other popular options include Mondo Kayar and Mondo Natura.
Most of our rubber flooring products come in rolls, making it easy to create the unique classroom you imagine. Furthermore, the elastic construction of Mondo rubber flooring provides an underfoot cushion to keep teachers comfortable on their feet.
Keeping School Hallways Quiet and Safe With Rubber Flooring
Hallways see the heaviest foot traffic. With features for durable performance, rubber flooring in a school hallway can help keep these walkways safe for students and quiet for surrounding classrooms.
Unlike harder flooring materials, rubber absorbs sound. Installing rubber flooring in the hallways can help keep distracting noise to a minimum and promote lower stress in the school environment.
Rubber flooring can also resist wear and provide excellent slip-resistance, even when wet. Slip-resistance in hallways is particularly important for primary schools since falling hazards for young students are difficult to deter.
Making Maintenance Simple With School Cafeteria Flooring
Cafeterias offer a place for students to eat and socialize between lessons. 
However, school cafeteria flooring often poses maintenance and cleaning challenges for custodial staff due to their exposure to food and high volumes of students.
Rubber flooring is non-porous, which makes cleaning spills easier and improves resistance to staining. For primary schools, where accidents may occur more often during lunchtime, rubber flooring offers a reliable solution.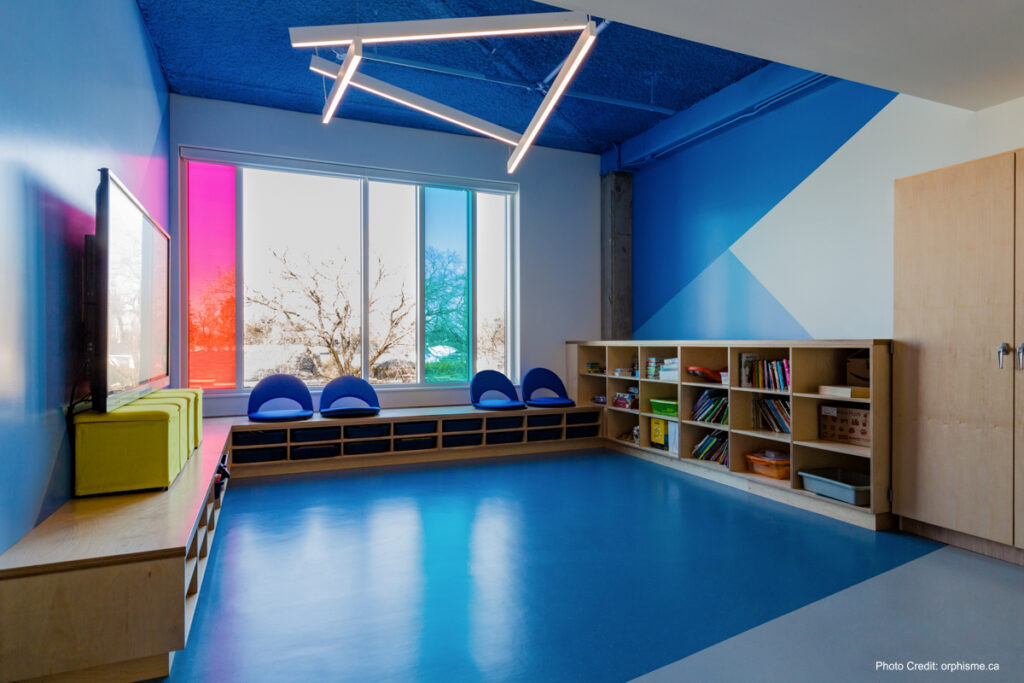 Presenting a Professional Persona in Reception Areas
The front office or reception area is the first part of the school parents and visitors see when entering. If you want to make a good first impression, flooring in this area should look professional, minimize sound and provide underfoot comfort.
By combining practical features like sound-absorption with visual design options, rubber flooring allows you to create an impressive reception area that showcases your school colors and spirit.
Keeping Students and Personnel Safe in Science Labs
Primary school science classrooms, and other areas prone to messes, benefit from flooring that's easy to clean and features bacteria-resistant properties.
Our flooring materials are bacteria, microbe and fungi resistant, to help prevent the spread of germs in the school environment. Our non-porous rubber flooring can also stand up to cleaning products that would damage most linoleum and vinyl floors. Perfect for rooms that house biology lessons and chemistry experiments.
Flooring for Every Primary School Setting
Through our Schools for Tomorrow program, we partner with a number of school districts to better understand their unique flooring needs and offer some added benefits to education facilities. This program allows us to shape our rubber flooring materials to benefit the educational environment and provide performance by design. School districts may benefit from added maintenance support and material as well as priority pricing and service.
After over 70 years in the industry, we're rubber flooring experts. We want to help you find versatile rubber flooring you can count on. Browse our product selection online or contact us today to get more primary school flooring ideas.
Learn More About Education Flooring
Let Us Help You Get Your Project Started