Applications for Hospital Rubber Flooring
Hospital designers and operators have high expectations for the materials used in their building projects. After all, everything from furniture to flooring impacts the healthcare facility's ability to serve patients effectively.
One of the biggest decisions you must make when planning hospital construction or redesign involves what flooring material to install. The material needs to provide functionality and pleasing appearance within the confines of the budget. What makes the decision more challenging, however, is the number of location-specific needs the material must address. Hospitals and healthcare facilities house many different departments, each with distinct challenges and demands your flooring must fulfill.
At Mondo Contract Flooring, we know how important it is for hospital flooring to meet the needs of various departments within the facility — from hygienic rubber flooring to hospital wet room rubber flooring, we can help you create a safe and effective design. Though you could choose different flooring material for each area and application, you shouldn't have to, which is why we make high-performance rubber flooring products that are versatile enough to exceed all your needs.
With features for function, safety, comfort and aesthetics, our rubber flooring provides the ideal solution for every part of your hospital or care facility.
We know aesthetics are important, which is why we offer rubber flooring for hospitals, children's hospital flooring and hospital corridor rubber flooring. We also offer surgical room rubber flooring, which can easily be flash coved for a better health safety.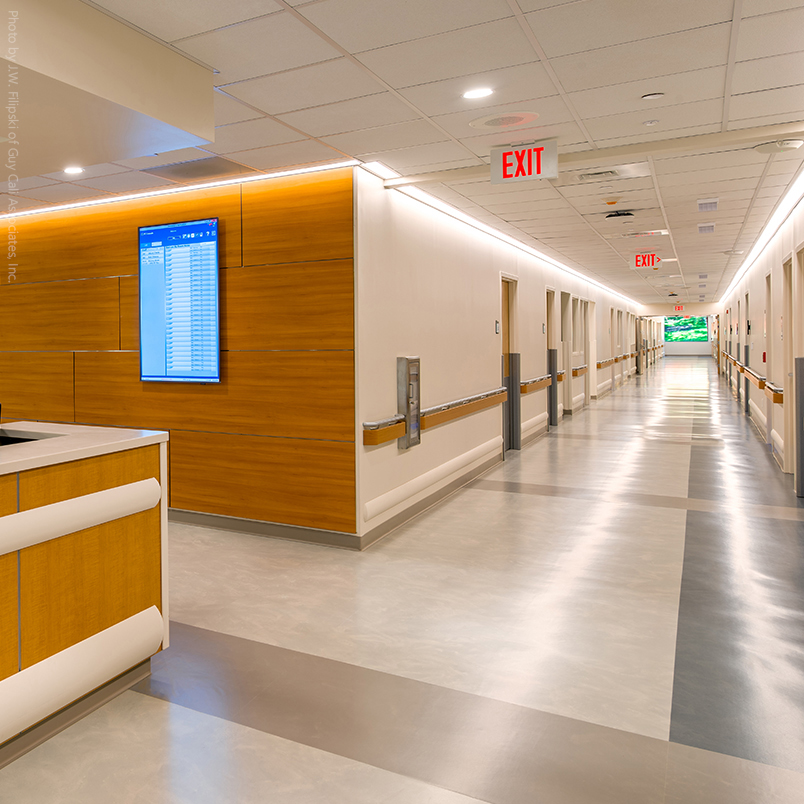 Hospital and Clinic Entryways
The main entryway receives frequent visitors at your hospital or clinic. It is also the first part of your facility that a patient or visitor sees when entering the building. As a result, hospital entryways require both wear-resistant and attractive flooring.
At Mondo, we provide rubber flooring that exceeds both of these requirements. Our products have proven wear resistance and long lifespans, so the Italian design will appear as beautiful on day one as it will after years of use.
An entryway also provides a chance to demonstrate your hospital or clinic's personality. Bold colors, patterns and textures can create the desired mood. A children's hospital flooring, for example, may create a fun, joyful atmosphere that makes visiting the doctor less stressful for young patients and their families. Mondo rubber flooring comes in a number of colors and patterns, making it ideal for creating the perfect entry display to welcome patients of all ages.
Hospital Corridor Rubber Flooring
Corridors and hallways also see heavy foot traffic. As the main pathways through your hospital, hallways must incorporate flooring with exceptional durability and performance.
Our hospital corridor rubber flooring resists wear from foot traffic and stands up to heavy rolling loads, making it suitable for use in hallways and other heavily trafficked parts of your hospital or healthcare facility.
Unlike harder flooring materials, our rubber flooring for corridors also provides excellent sound absorption, which can help keep noise emanating from the corridor to a minimum. When your hospital or clinic is quiet, patients can rest more easily and feel less anxious.
Rubber Flooring for Exam Rooms
Healthcare staff spends the majority of their time seeing people in individual examination rooms. In a hospital, an exam room is also where individuals spend extended time recovering from illness, injury or operation. As a result, these vital spaces need hygienic, comfortable and visually appealing flooring.
The texture of our hospital flooring is smooth and non-porous. This helps to prevent bacteria accumulation and makes it easy to clean — two factors that play an important role in maintaining hygienic patient surroundings. Additionally, our rubber flooring provides cushioning to help keep nursing staff comfortable throughout their shifts.
To promote patient relaxation, Mondo offers several hospital rubber flooring options inspired by nature, including Mondo Harmoni, containing multicolored granules, Mondo Natura, which mimics natural wood, and Mondo Kayar, which incorporates coconut husk fibers for a subtle natural look.
Flooring for Emergency and Operating Rooms
When choosing flooring for a hospital operating room or emergency wing, hygiene and slip-resistance should be your top priority. Eliminating hazards from surgical room rubber flooring is essential to the health and safety of both patients and medical staff.
A hospital operating room needs hygienic rubber flooring that prevents the spread of bacteria and minimizes the risk of infection. At Mondo Contract Flooring, we design our products to exceed these stringent requirements. We provide our non-porous flooring material in large rolls, which allows installers to create a floor with fewer seams. This prevents crevasses in the floor, which helps with bacteria accumulation. Additionally, our products is bacteria, microbe and fungi resistant from the vulcanization stage of manufacturing to help keep microbial populations under control.
Our operating room flooring also provides excellent slip resistance when wet. This helps prevent falls when spills occur, which is of particular importance in high-risk environments.
Flooring for the Entire Hospital or Healthcare Facility
It's important to find a flooring material that's appropriate for varying healthcare applications.
At Mondo Contract Flooring, we offer multiple rubber flooring options so you can find a material that suits your needs. Our rubber flooring comes in different colors, patterns and thicknesses up to three millimeters, and for ease of installation, we offer many of our products in rolls as well as tiles. With an array of options to choose from, you can outfit your entire building without needing to mix-and-match rubber with alternative flooring materials.
Our products provide results for hospitals and healthcare facilities around the world. You can see Mondo rubber flooring performing well in demanding applications and environments, including in Nemours Children's Hospital, Women's College Hospital, Camp Pendleton Naval Hospital and many other respected healthcare institutions.
Choose Rubber Flooring From Mondo
Choosing the right hospital flooring material for the application is essential due to flooring impact on patient care. Rubber makes an ideal flooring material for healthcare applications, whether you you need operating room flooring or you plan to install it in a laboratory or a simple entryway.
If you're searching for flooring for your hospital or healthcare facility, Mondo Contract Flooring wants to help. After more than 70 years in the rubber flooring industry, we've refined our development, manufacturing and distribution processes to ensure our customers receive flooring that's high-performing by design. By focusing our energy on rubber, we produce the best rubber flooring materials on the market.
We encourage you to browse our product selection online or contact Mondo Contract Flooring today to learn more about applications for our hospital rubber flooring.
Learn More About Healthcare Flooring