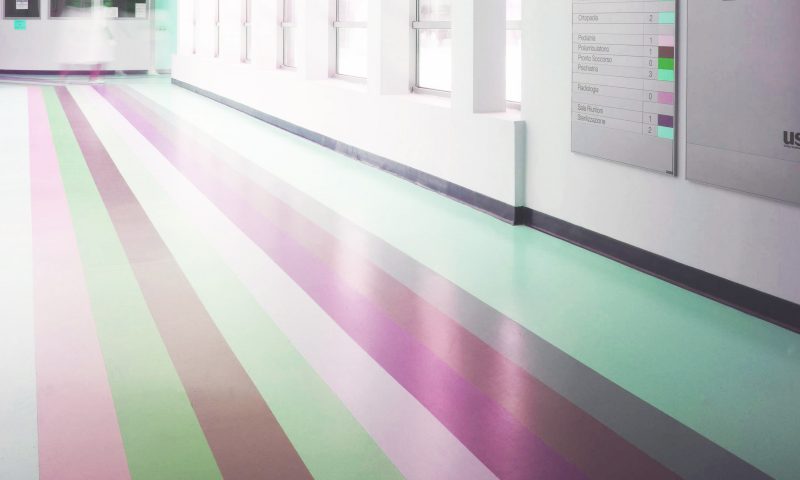 Healthcare
"With a conducive environment the employees' benefits can be seen by a higher resistance to stress, a lower percentage of absenteeism and staff movement, and overall a higher quality of medical care."
Presently, the majority of hospitals are designed to answer the functional needs of the equipment and the operation of the medical activities, often to the detriment of the patients or staff. A study has demonstrated that in a well-conceived environment, blood pressure can be reduced, while anxiety and pain have been known to diminish. Conversely, some researchers have also established a link between inadequate design and the negative effects on healing.
Mondo Contract Flooring offers a solution that is: stain resistant, anti-bacterial, slip-resistant, comfortable underfoot, easy to maintain, sound absorbing and environmentally friendly. Rubber is non-porous and can withstand chemicals and products which would stain most vinyls and linoleums. The vulcanization process of Mondo rubber incorporates natural chemicals that make the material anti-bacterial throughout. Furthermore, rubber eliminates concerns for bacteria growth. Our flooring has outstanding slip resistance even when wet and its elasticity provides cushion under foot without being affected by heavy loads. Noise is also greatly reduced, thanks to the sound absorption quality of our flooring. No coatings or waxes are required after installation and maintenance is easy. Finally, our rubber is environmentally friendly and contains no heavy metals chlorine or asbestos.
For any questions or inquiries, visit our products page or contact us.