Healthcare Rubber Flooring Options
Design elements impact a healthcare facility's daily operations and patient outcomes more than people realize. Everything from the ceiling to the flooring influences a facility's functionality and overall atmosphere. A purposeful design can create an environment conducive to healing, while a poor design can obstruct staff's ability to help patients effectively.
Whether you're an architect or designer working on a new construction project or a facility operator overseeing a comprehensive redesign, you need to find a flooring material that meets your expectations for performance and design. At Mondo Contract Flooring, we offer rubber flooring for use in healthcare facilities and other demanding environments. After more than 70 years in industry, we know rubber flooring is the best material for these complex applications, which is why offer rubber flooring options suitable for use in all types of healthcare locations.
Benefits of Rubber Flooring in Healthcare Facilities
The flooring in your healthcare facility goes through a lot over the years. As a result, it's important to choose a flooring material that can stand up to the stress. Rubber flooring comes with distinct 
benefits for healthcare, from features to promote hygiene to a lower overall cost of ownership.
When you choose rubber flooring from Mondo, you'll discover the following benefits: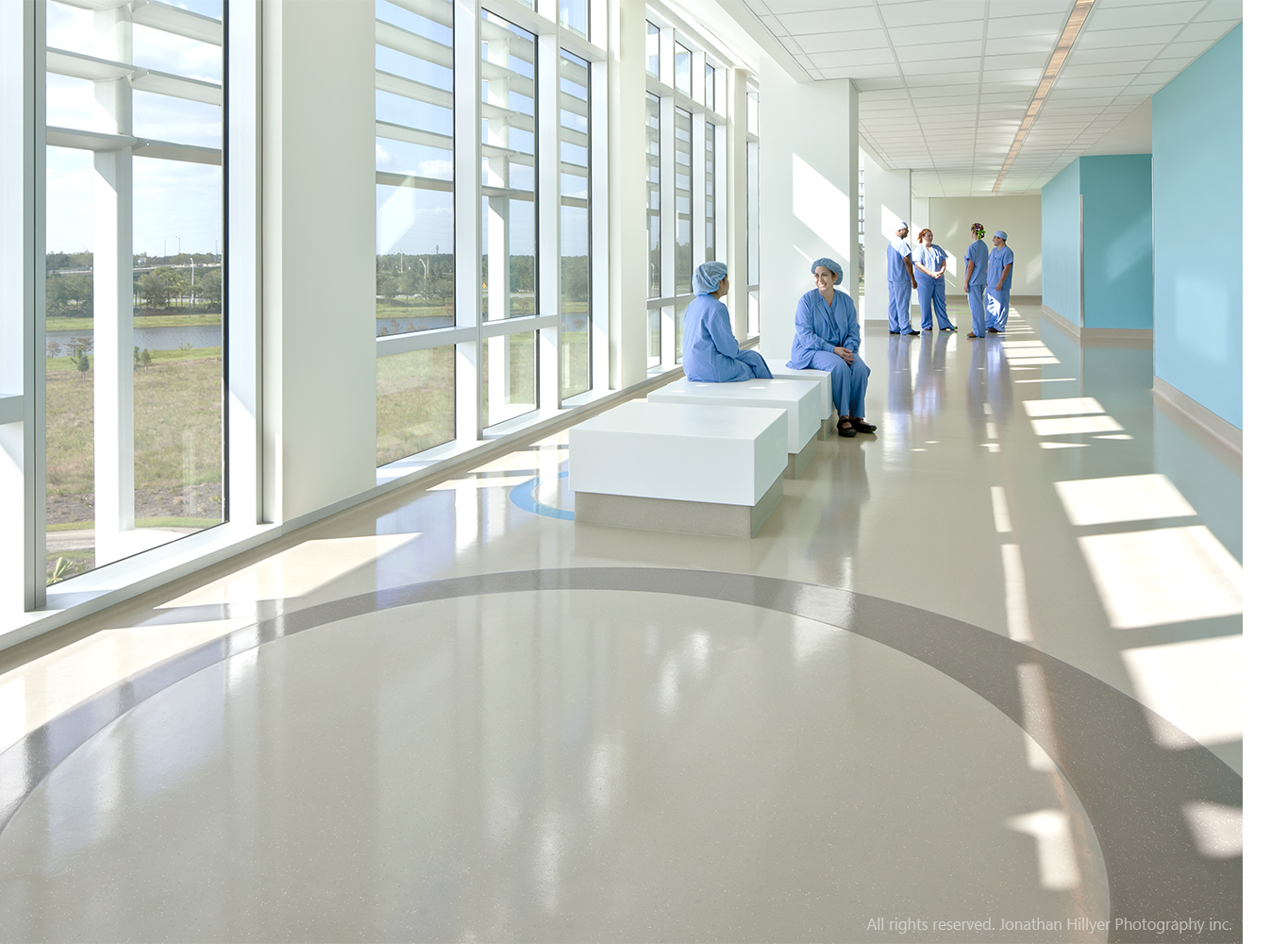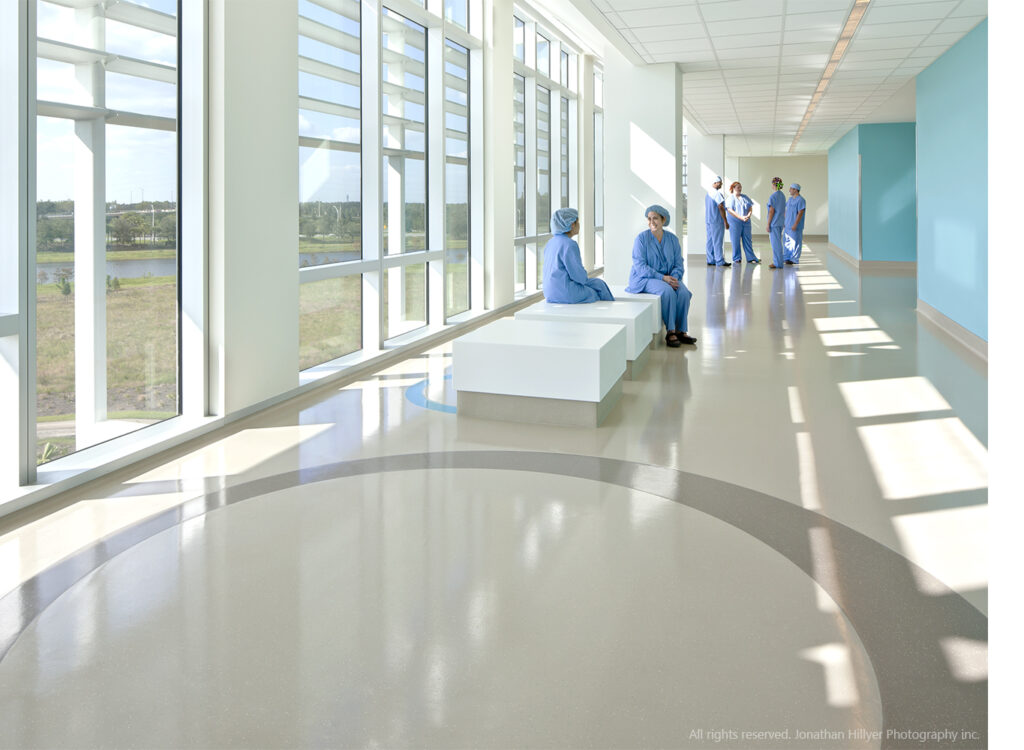 Sound absorption: Unlike harder flooring materials where sound bounces around a space, our rubber flooring materials absorb sound to create a quieter, more restful healthcare environment.
Slip-resistance: Our rubber safety flooring for healthcare facilities provides excellent slip-resistance, even when wet. This makes moving around safer for patients, visitors and fast-moving staff members alike.
Bacteria Resistance: To help keep microbial populations under control and prevent hospital-acquired infection (HAI), our flooring has bacterial, microbial and fungi resistance properties inherent to our product. No agents or chemicals are added to achieve this feature.
Underfoot comfort: Medical staff spend long hours on their feet every day. Our elastic, fatigue-reducing rubber flooring creates a more comfortable environment for healthcare personnel to stand and work on, resulting in better and more efficient patient care.
Easy maintenance: Our flooring requires no stripping or waxing as part of its maintenance, making upkeep simpler and less expensive.
We offer 10 durable, high-performance rubber flooring materials for use in healthcare facilities. In our product selection, you will discover rubber flooring in different patterns, colors and thicknesses to suit your operation's unique needs.
Rubber Flooring for Healthcare Clinics
Medical offices, outpatient clinics and other healthcare centers see high volumes of patients with varying needs. Though the type of clinic flooring you choose will depend upon the type of facility — a children's clinic has different flooring needs than an outpatient surgical center, for example — you will certainly need rubber flooring that can provide durable performance and comfort.
Mondo's rubber flooring options feature wear abrasion resistance and rolling load resistance to ensure long-lasting utility, and their cushioned construction supports staff members as they serve patients.
Rubber Flooring for Hospitals
Hospitals have unique requirements for their flooring. To prevent HAI, curb the spread of disease and keep patients comfortable while healing, they need flooring that is bacteria resistant and sound-absorbing. Given the advantages, it's no surprise that many hospitals choose rubber flooring to fill these needs.
Our most popular rubber flooring product, Mondo Harmoni, easily meets the high expectations of hospital operators. This three-millimeter material, which features the largest color palette in our selection, has been used to create stunning results in Nemours Children's Hospital, Women's College Hospital, Camp Pendleton Naval Hospital, Peter Lougheed Centre and other esteemed hospitals around the world.
Rubber Flooring for Assisted Living and Long-Term Care Facilities
In addition to the bacteria resistance and safety requirements shared with hospitals and clinics, assisted living homes and long-term care facilities are also tasked with creating a relaxing and visually appealing environment for residents. These facilities need flooring that meets performance expectations without looking sterile or overly artificial.
We have two rubber flooring products ideal for creating a relaxing, natural atmosphere: Mondo Natura and Mondo Kayar. Natura features a marbled surface designed to resemble wood, while Kayar incorporates coconut husk fibers into a smooth surface for a more subtle organic appearance. As for all our products, Natura and Kayar come with a 15 year wear warranty.
Rubber Flooring for Laboratories and Research Facilities
Medical laboratories and research facilities can experience spills of liquids and abrasive chemicals. To keep employees safe from slipping hazards and floors safe from unsightly stains and degradation, these facilities often choose rubber flooring as it's slip-resistant, stain-resistant and easy to clean.
Mondo's rubber flooring for laboratories features high stain and chemical resistance as well as slip resistance, so lab technicians can conduct their vital work without worry.
Find Rubber Flooring Options for Your Healthcare Facility
Whether you're concerned about safety, cleanliness, cost or appearance, Mondo Contract Flooring has a rubber flooring option to meet your healthcare facility's specialized needs. Unlike some companies that offer rubber alongside less suitable materials, we focus all our energy on developing the best rubber flooring for healthcare applications. Appreciated for their durability, performance and beautiful Italian design, our products are sold in nearly 200 countries worldwide, including the U.S. and Canada.
If you're ready to choose rubber flooring for your healthcare center, we want to help. Browse our product selection online or contact us today to request more information.
Learn More About Healthcare Flooring