Rubber Flooring for Government Offices in Canada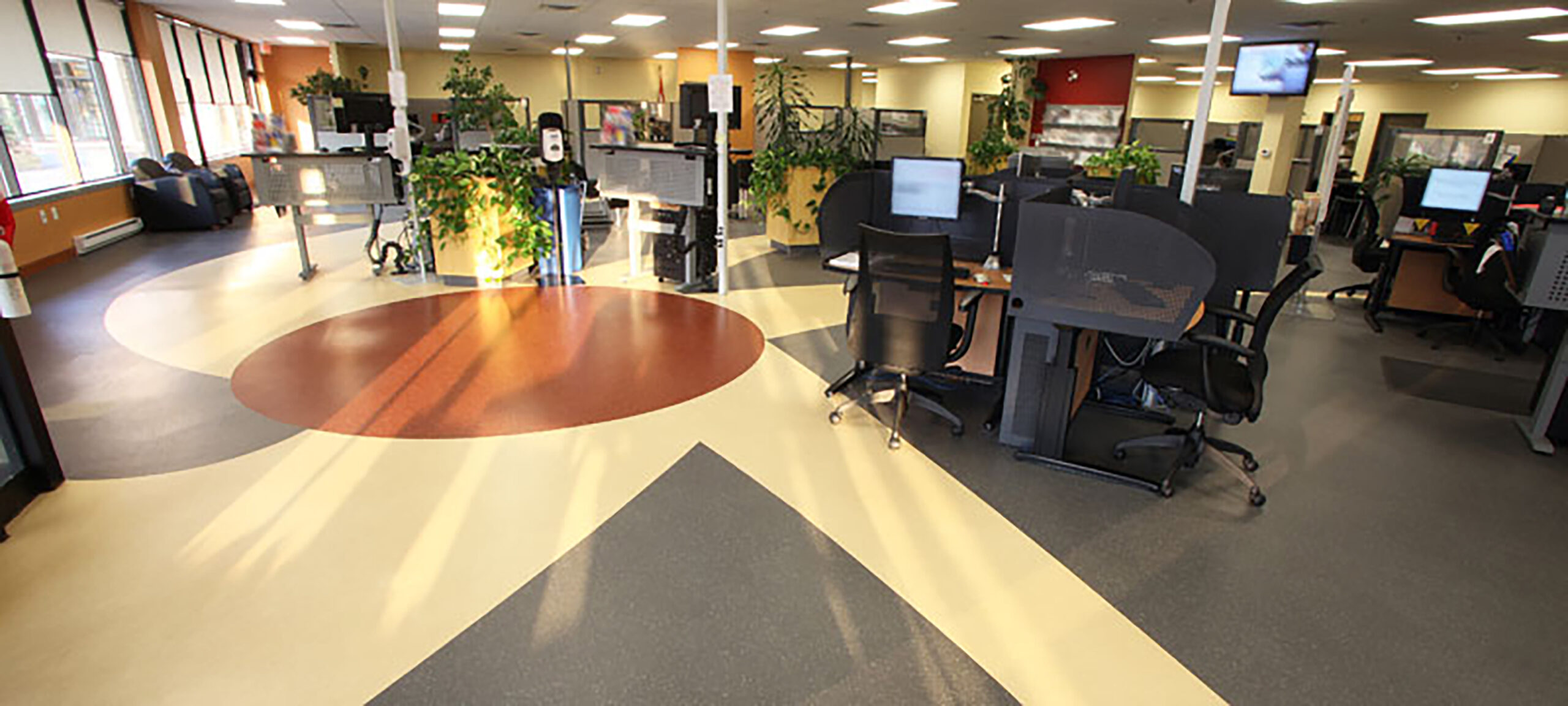 "Rubber also works to absorb sound and it is a major ergonomic factor as clients and staff are standing a lot."
With all government offices, cost and product durability must be considered for every component installed, especially flooring. In the case of four Southern Ontario offices, Mondo Harmoni met Public Works and Government Services Canada's (PWGSC) criteria for resilient flooring. With 8,000 square feet of multi-use office space, the latest project for a government office in St. Catharines, Ontario is a flagship for many of its kind yet to come.
"Our client chose Mondo Harmoni's sustainable flooring for its life cycle cost/value," says Brent Fader, sales manager for Darwin Fisher Flooring, supplier for this project. "The 10-year warranty is also beneficial as the area will have to withstand a high traffic volume." Quality and easy cleaning were other factors in Public Works and Government Service Canada's decision to use Mondo Harmoni.
"This office can serve approximately 2,000 clients per week, including wheelchairs and other mobility devices," says Fader. "Between this and the weather factors, it was important that we install a floor that could stand up to a lot of abuse." Beyond the obvious quality in Mondo Harmoni flooring, it had to work with the inspirational concept created by the PWGSC in-house design department. PWGSC's designer Alfredo Cimini incorporated a 10-foot red circle in Harmoni's Cognac color that creates the center of the public area and serves as the reception point when clients come in. From there, a series of gold saber swashes, done in Harmoni Champagne, lead clients to designated areas of the office.
"The main reason PWGSC switched from linoleum to rubber in this case is the traffic volume," says Fader. "Rubber also works to absorb sound and it is a major ergonomic factor as clients and staff are standing a lot." He adds Harmoni rubber flooring was selected as it never has to be waxed. "Paraffins are inherent in this material, and the more the rubber ages, the more the paraffins release. From a maintenance perspective, the cleaning cost is much less than other floor coverings over a short period of time." Some other flooring products need to be stripped, polished and sealed at least once a year, sometimes twice in high traffic zones as recommended by the major flooring manufacturers.
Mondo passed the test:
As soon as construction was completed, there was a hole created by accident in the roof during a heavy rainstorm late on a Friday night. When the design team was called in on Monday, there was about two inches of water on the floor but no other damage. The carpeting in the back area of the office had to be replaced, but the rubber floor was fine. The staff simply mopped the water up and everyone carried on with their day.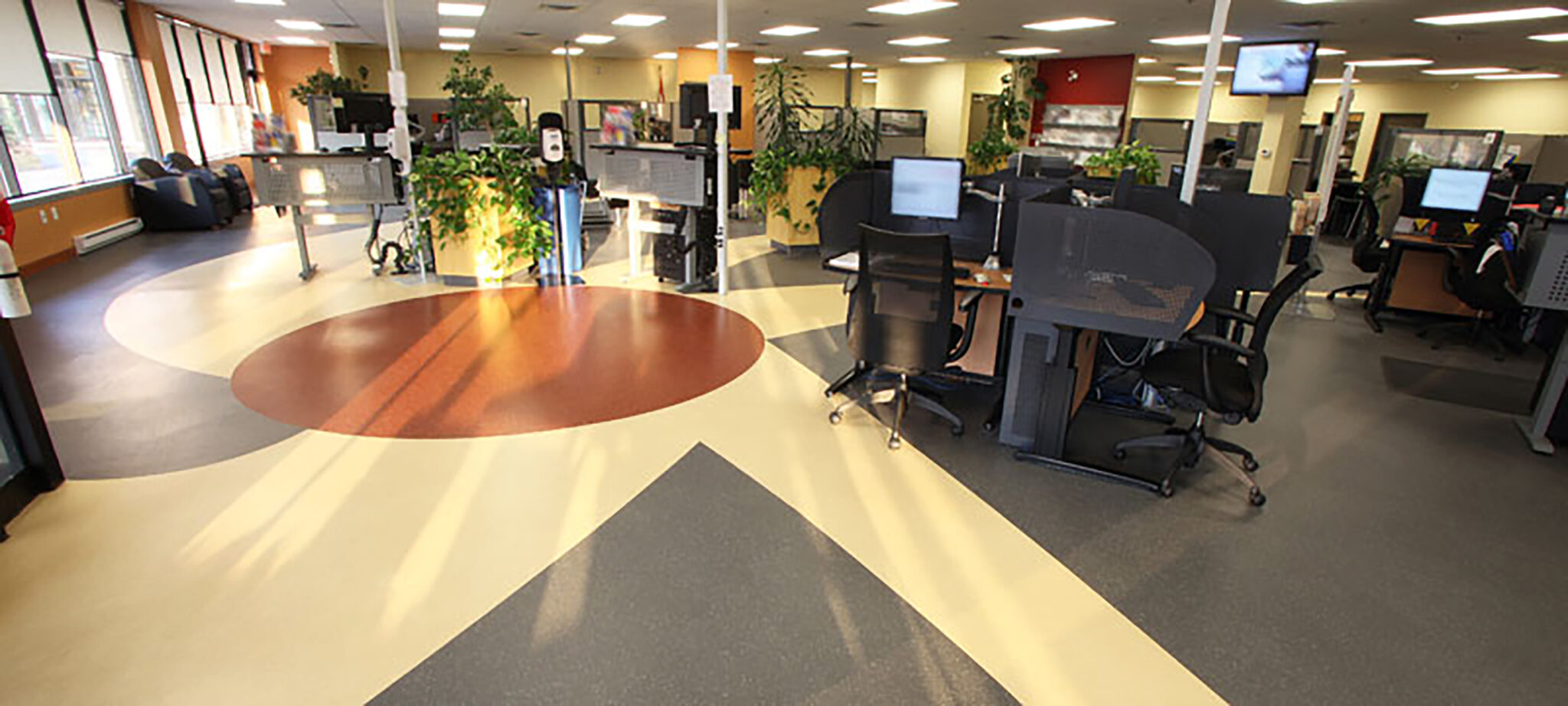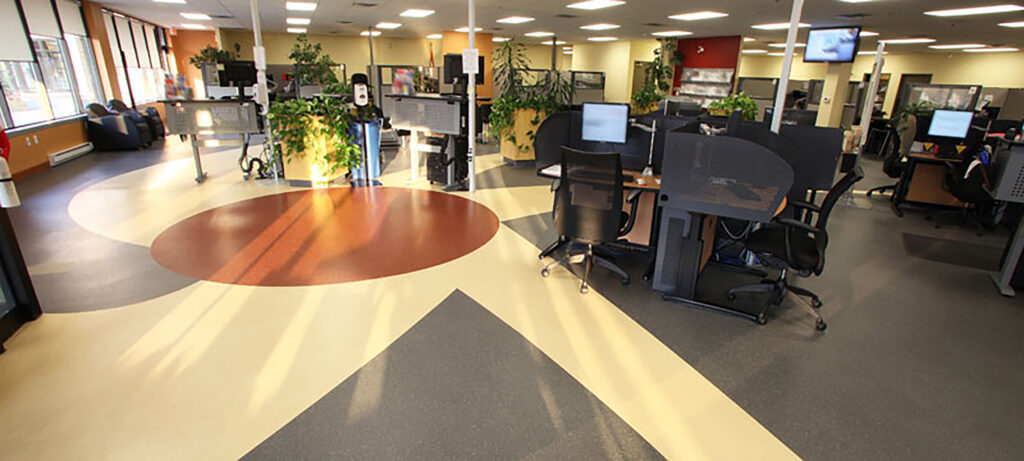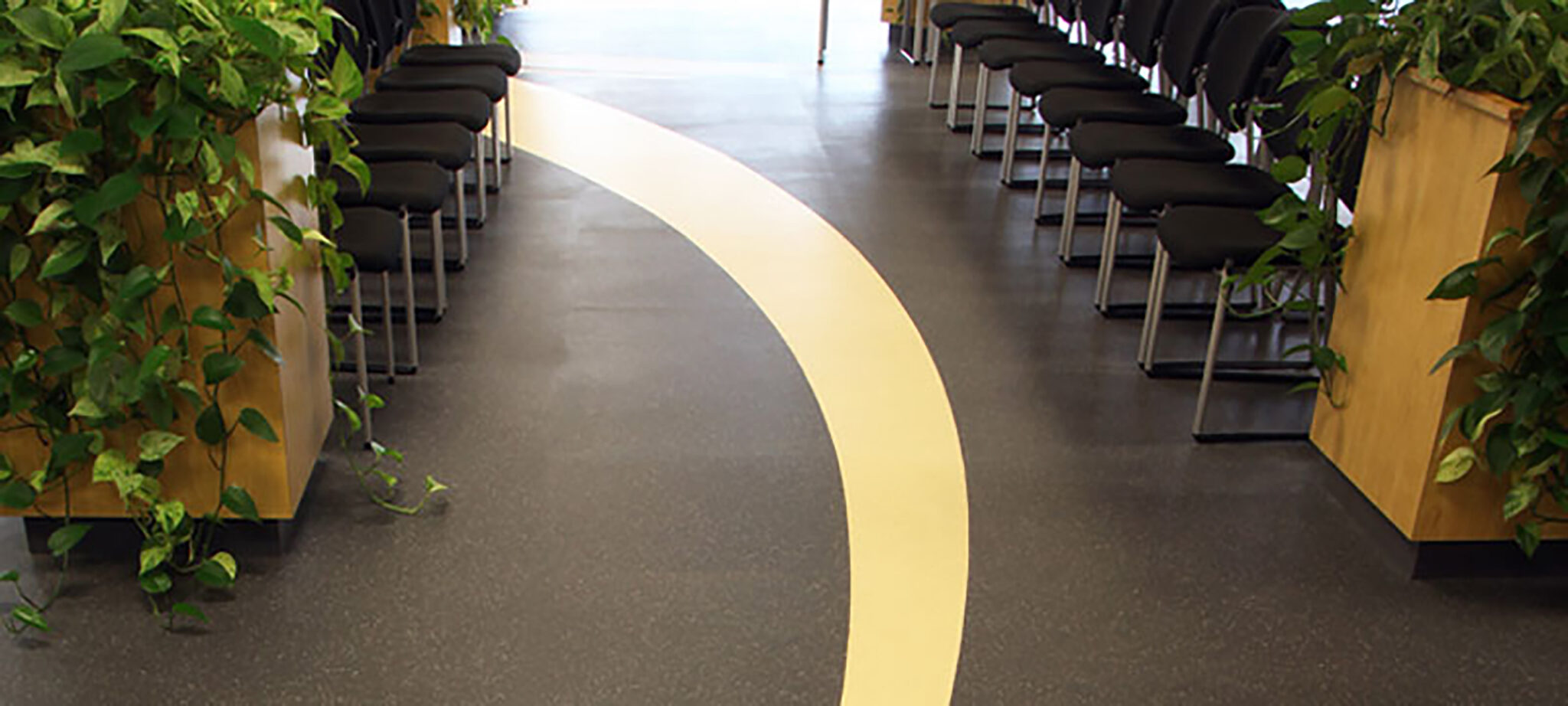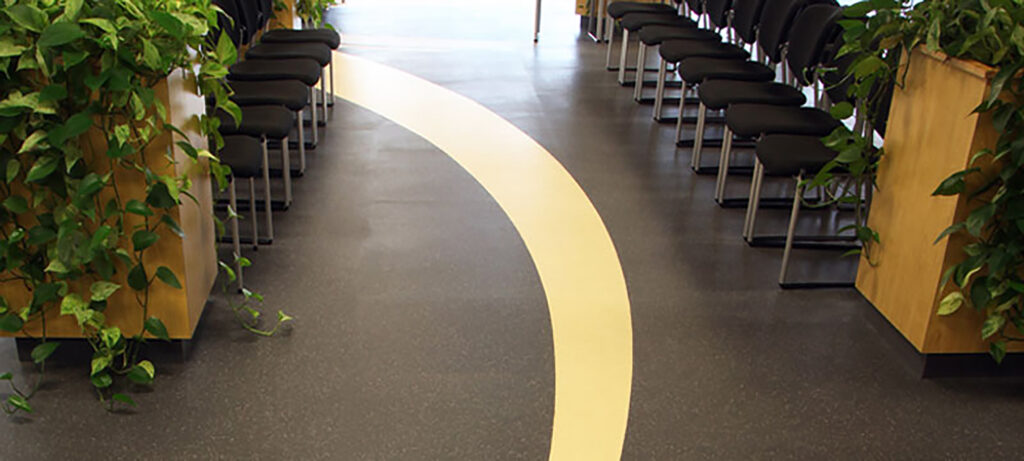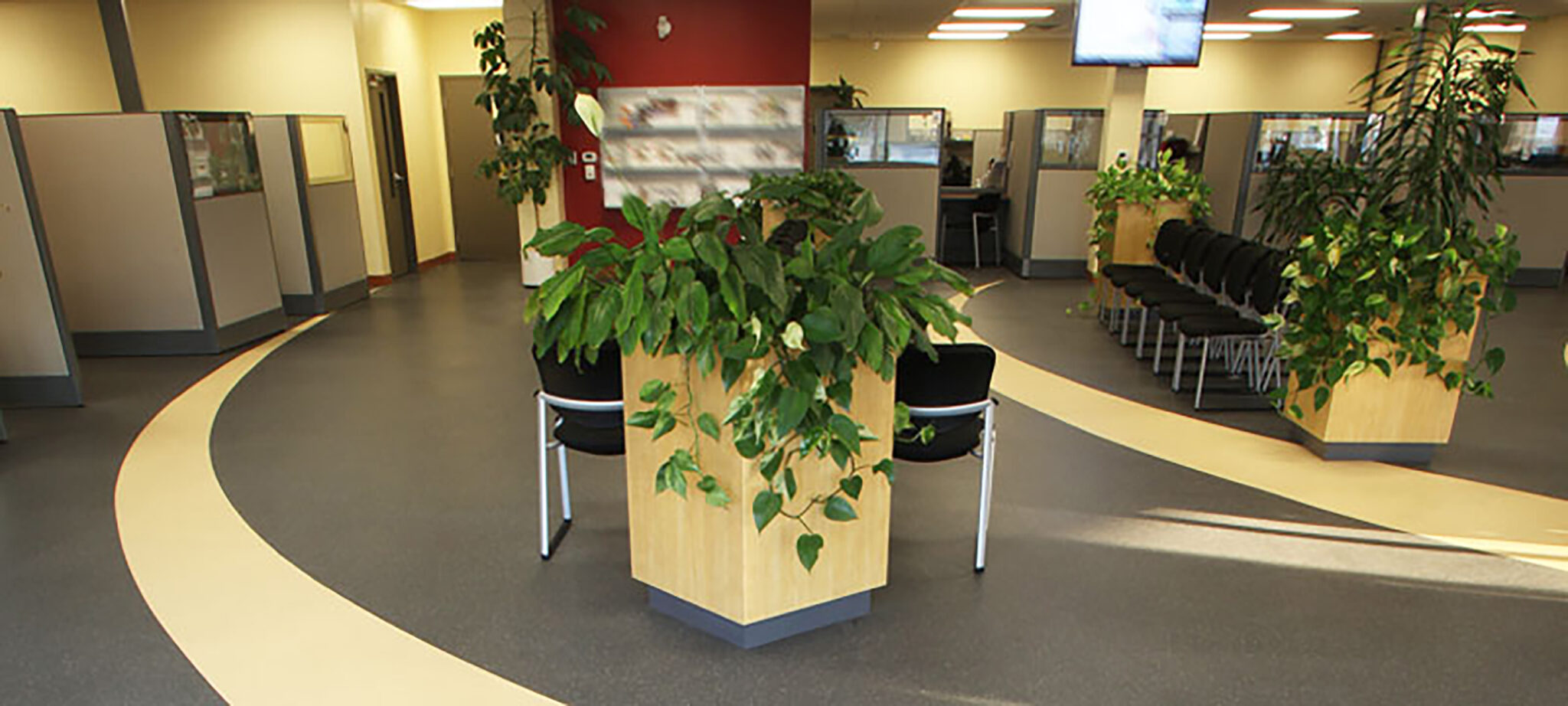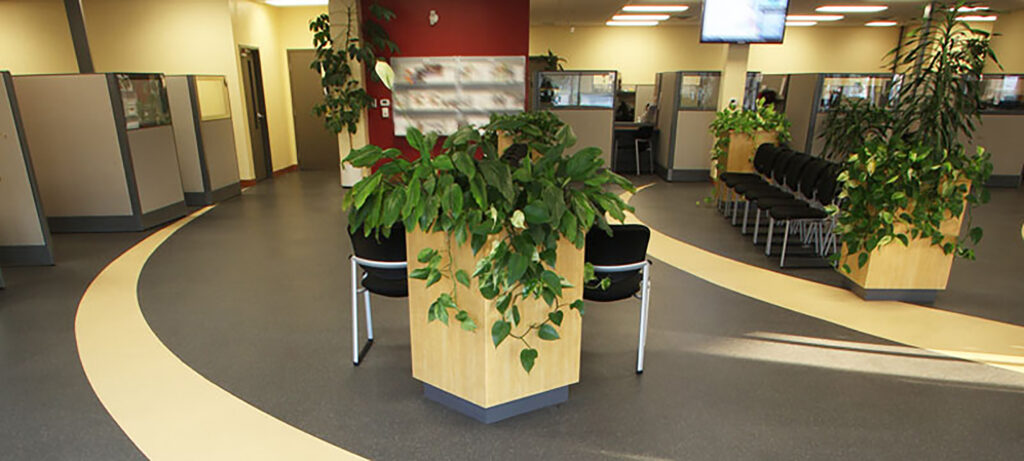 other projects with harmoni
other projects with offices
Learn More About Office & Retail Flooring
Get Your Project Started
Search engine
Use this form to find things you need on this site